Mobile apps-phone apps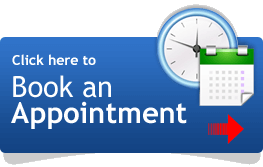 Mobile Apps-Phone Apps are getting more important for businesses because more people are spending more time searching for information on their phone. This is especially true during the day when people are working and commuting to work. They are more likely to stop at a restaurant and use some other service on their way home if this service is present in the mobile app universe.
Mobile represents about 65% of digital media time pushing desktop/laptop use to become secondary source. Below you can examine the relationship of the market share for mobile vs desktop devices which indicates favor towards mobile use and it would be safe to say that this trend will increase over time. Android apps are being more developed a fraction more than apple apps for a simple reason that more people have access to android devices which on average cost less than half compared to apple counterpart. More insights on the competition between Google and Apple you can get from this 2016 Internet Trends report.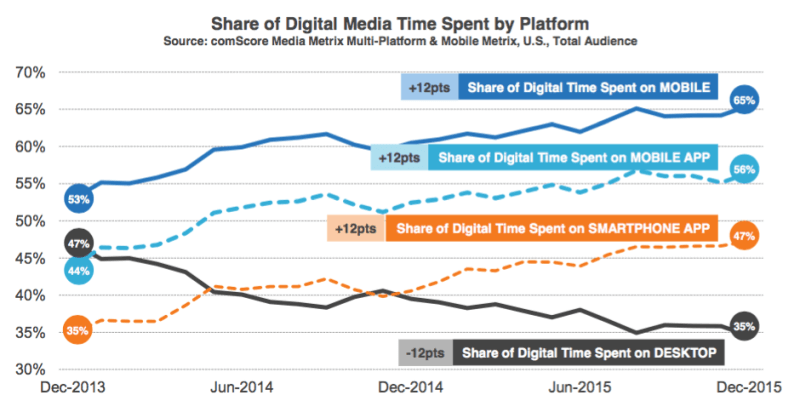 Android Apps
Android apps are accessible on Google App Store which has over one million apps available. Number of downloads from Google App Store is significantly larger than that from Apple App Store but it also has lot more free apps than Apple App Store. The same count advantage applies to the user base where Android market has the upper hand.
Apps for iPhone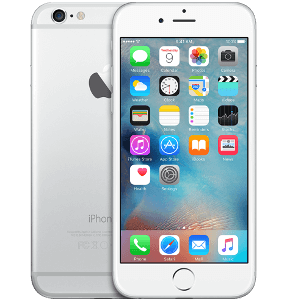 Apple App Store also has over a million available apps for download and the number of downloads is less than that from Android App Store but the revenue from purchased apps is larger because more apps for iPhone are paid apps and often time more expensive than paid apps in Android's Play Store.
Advantage we are offering to your business
When developing apps, businesses have to decide which platform they will be going with since app development ranges for most apps between $3K and $8K on average for a single app. Fortunately, we are taking that pain away from you by providing you with both apps, for Android and iPhone users for the price of one. Mobile apps–phone apps use are on the rise, so it is fair to expect that any business will sooner or later not have a choice but have a mobile app developed for them to stay competitive. Having this in mind, it is definitely better to take advantage of this growing market sooner than later. This way you stay ahead of competition and you stay current with the technology trends that help your business grow.
Business modules available to be build into your mobile app (different businesses will have different requirements): 
Digital Loyalty Cards (example: buy 5 pizza's, 6th is free)
Coupons (example: this week 10% off on orders over $100; or 25% off on specific item)
Push Notifications (put a message directly in front of your subscribers-on their phone)
Social Media connector (Facebook, Instagram, Twitter, Pinterest, …)
Shopify store products import (feature your store products within you app)
Amazon store products import (could be your affiliate store – product commissions)
Magento store products import (your shopping cart – on your customer phones)
Book a Table (nice for Restaurants)
Menus (List meals they love)
Optin Forms (build your subscriber and customer lists to serve them better)
Contact Forms (quick interaction with you)
Membership management (memberships: sports club, gym, school, daycare, …)
Real Time Appointments (let your customers schedule their time with you)
Image Gallery (feature your products or facilities)
Video Gallery (feature your brand)
Audio Gallery (nice for podcasts)
Direct Email (click on email icon)
Direct Call (click on phone icon)
About Us (introduce yourself and highlight your values)
Analytics to show you app use data and stats (see how your users interact with your app and your messages and offers)